Posted: May 10, 2010 at 3:21 am | Tags: control multiple computers with one keyboard and mouse, keyboard over network, kvm, mouse over network, network keyboard, network kvm, network mouse, remote kvm, share keyboard and mouse over network, share keyboard over network, share mouse and keyboard, share mouse over network, software kvm, windows share keyboard, windows share mouse
Input Director is a completely free Windows application that allows you to share a keyboard and mouse across multiple physical systems over a network connection.
This is extremely useful if you have a few separate PC's and laptops in the same workspace, and don't want the hassle of using multiple keyboards and mice, or a physical KVM switch to manage each system.
The configuration is extremely simple: install the application on each system that you would like keyboard and mouse shared over, set your main system as the Master, and then configure each secondary system as a Slave. As a plus, you can enable encryption between the Master and Slave systems for added privacy over the network.
This is my config at home, a PC with two monitors, as well as a laptop with another screen attached. Input Director virtually allows me to treat this setup as a single device with four screens attached: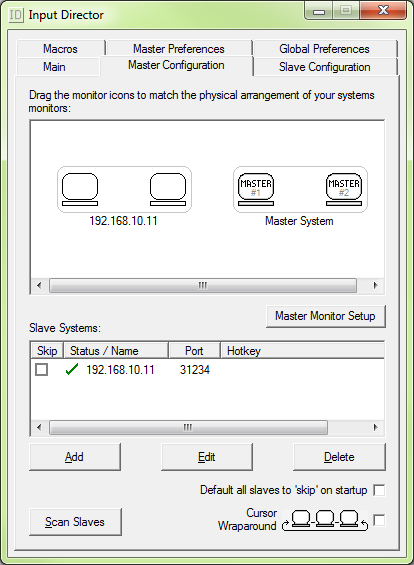 Input Director also shares content on the clipboard between Master and Slave(s). Go ahead and download Input Director here: http://www.inputdirector.com/downloads.html
For cross-platform keyboard and mouse over network sharing, see the Synergy+ project. Synergy+ allows you to share keyboard and mouse over network across Windows, Mac and Linux clients. I will do a write-up on Synergy+ soon.