Active Traceroute Applications: mtr & Ping Plotter
Posted: August 22, 2008 at 6:46 am | Tags: continuous trace route, graphical trace route, graphical traceroute, ip route check, linux live trace route, linux ping plotter, linux trace route, linux visual traceroute, live ip route check, mtr, ping plotter, route check, trace, traceroute, traceroute alternative, tracert, tracert alternative, visual trace route, visual traceroute, windows mtr, windows trace route, windows visual traceroute
Traceroute is an application that allows you to monitor the network path taken to reach the specified IP destination. You may be familiar with this in Windows (command: tracert.exe) and in Linux (command: traceroute). The downside of these default applications is that they only run the trace once from source to destination. If you need to constantly monitor the path taken by packets to reach their destination I would suggest the following applications for Windows & Linux….

Ping Plotter, www.pingplotter.com is a Windows graphical route plotter. It is available as a Freeware, Standard or Professional version.
The Freeware edition provides a basic interface as seen above, however the Standard & Professional edition offer more functionality such as alerts and route change information/alerts.
mtr provides the same function, but for Linux command line as seen here: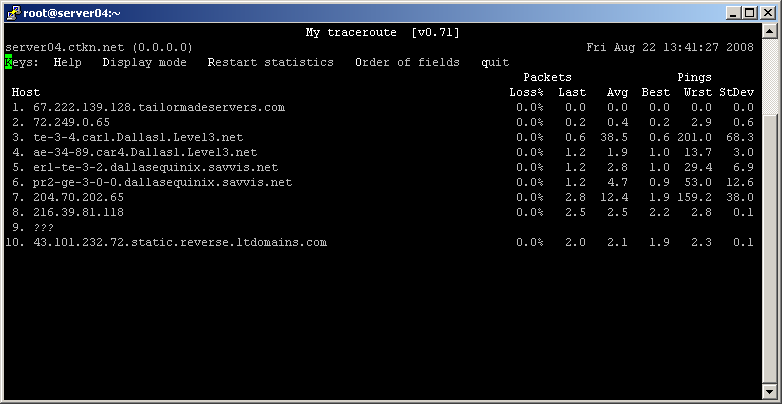 mtr can be installed with the following command in CentOS:
# yum install mtr
You can initiate an active trace to a host with the following command:
# mtr <destination address>